MOST BINS ARE AVAILABLE WITH (or without) LID LIFTA® FOOT PEDAL



Lid Lifta Details:
Specific information on the hygienic Lid Lifta® hands-free foot pedal operated bin lid opening device, designed and manufactured by Wrightway Products specifically for use in industrial and commercial settings.
| | | |
| --- | --- | --- |
| Recycling Station | .......... | Compact Recycling Bins |
| | | |
| The most versatile recycle containers on the market. These bins will take your recycle & waste collection system from good to great! Ideal for office & school collection, containers are designed with a variety of lid and signage options which allow for easy separation of waste streams and the ability to easily expand your recycling program. Available in 3 sizes: 60 litre, 66 litre or 72 litre recycling bins. | | Perfect for your office or school recycling & waste needs! With numerous lid configurations and colours to choose from, the possibilities are endless! Mix & match openings and lid colours to create the ideal container to suit both your program and surroundings. Available in 2 sizes: 28 Litre & 39 Litre, making this the ultimate solution for both desk side and centralised collection. |
Wrightway offers an extensive range of lidded bins and wheelie bins including:
Round bins with lockable lids :


35 litre, 50 litre round bins.


2 wheeled wheelie bins:




60 litre, 80 litre, 120 litre, 140 litre, 240 litre, 360 litre.

the Wrightway Bin (ergonomic push wheelie bin)




80 litre and 140 litre only.

4 wheeled industrial bins (skip bins):




660 litre, 1100 litre
We also offer a range of bin accessories and stickers ...
---
ROUND BINS:
35 Litre & 50 Litre
With or Without Lid Lifta
Bin Accessories Available:
Hands Free Foot Pedal

Stickers for bins
---
2-WHEELED WHEELIE BINS (Wheelie bins / MGBs):
SPECIFICATIONS:
*COLOURS: Bin bodies and Bin Lids Available
*Note: COVID-19 has placed additional demand on the availability of some bin sizes and colour.
Please phone to check availability of sizes & colours
60 Litre

80 Litre

120 Litre

*140 Litre

240 Litre

240 Litre


KSB

360 Litre


KOM

***Sizes and Colours


On-line Enquiry Form

---

2- Wheeled Wheelie Bin Accessories

Lid Lifta® foot pedal; 250mm or 300mm wheels; Wide range of different Lid Apertures for various applications including bottles, recycling and paper use; Lid within a Lid; Noise reduction options; Range of Lid Locks; Label and Imprint options; and Inserts; Stickers, etc.

---

IMPROVED 60 LITRE WHEELIE BINS:


2 New Models

Download brochure

for details regarding the versatile 60 Litre wheelie bin.

RETRO MODEL:

60 Litre Wheelie Bin


with inbuilt handle.
(Lid Lifta not available)

STANDARD MODEL:

60 Litre Wheelie Bin.




Available with or without




Lid Lifta Foot Pedal attached

---
---
4 WHEELED INDUSTRIAL BINS (Skip Bins):
4 Wheeled Industrial Bins (Skip Bins) Accessories

: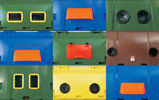 Lid Lifta® foot pedal; Foot Brake or Central Brake; Directional Lock; Wide range of Castors to suit specific situations; Towing Brackets; Forklift pockets; Wide range of Lid Openings; Paper Apertures; Recycling Apertures; Lid within a Lid; Lid Opening device; Easy grip Rear Handles; Noise reduction option; Wide range of Lid Locks; Labels and Imprint options; etc.
We can source other bins or containers as required.
---
STICKERS:
Stickers can be provided with bins:
Medical stickers include ...