LIMITING CROSS-CONTAMINATION OF THE CORONA VIRUS

Wrightway Products specialises in the design, manufacture and marketing of a range of Lid Lifta® foot pedal bins and other bins; the design, manufacture and marketing of the wrightway2MT® bin tipper / bin lifter; the Wrightway Bin (ergonomic push 4 wheel Wheelie bin) and, the distribution of related products. Established in 1996 the northern NSW based family business has a history of producing and providing quality and reliable products and high quality service.
Interesting Information:
Recycling Plastic Bags
To Recycle, or Not to Recycle (an item)
The Amazing Future of Batteries
Best Guide: What/How to Recycle
HISTORY:
Wrightway Products was incorporated in 1996.
The business was created to market an invention, the Lid Lifta®, a foot pedal device which facilitates the hygienic and efficient opening and closing of the lid of a wheelie bin: we were never founded upon the typical profit-motivated business structure. We had a belief in a product, in its purpose, and in it's benefit to society.
The company has grown from 2 people in a back-yard shed to a fully operational Equipment Designer, Manufacturer, Supplier and Marketer of waste bins and bin tipping equipment (patented and patents pending), and Distributor of top quality equipment to service the operational issues related to waste and facilities management. Wrightway is nationally recognised for its production and supply of quality and reliable products and for providing exceptional service.
The Directors and the Company are proud supporters of local community groups and activities including the now world recognised Lismore Lantern Parade which highlights our local community in which children and adults from all walks of life come together to celebrate our diversity and our cohesion.
Wrightway is a proud member of the NSW Chamber of Commerce and Industry and Director, Jennifer Joy, is an active member of the Board of the Lismore Chamber.
The Directors state:
We are a Lismore NSW based family business involved in the design, manufacture and marketing of a range of Lid Lifta® foot pedals for waste bins; the design, manufacture and marketing of the wrightway2MT® bin tipper; the development, manufacture and distribution of new and innovative related products such as the Wrightway Bin® and the wrightway2MT® Wheelbarrow Tipper, and, the specialist distribution of high quality waste related products according to industry needs.
We now provide industry with a diverse range of products which meet recognised needs and meet legislated Australian safety requirements. We have developed a culture of innovation and problem solving in our factory, workshop and office. All employees are encouraged to offer suggestions, express ideas on products, work practices, and ways in which we can make improvements.
We pride ourselves on our history of exceptional service: the phone should never ring more than twice, queries are addressed/responded to within two hours. All technical queries/requests are dealt with immediately by the person most qualified according to need. All subcontractors are provided with in-situ advice and diagnostic assistance along with detailed instruction sheets/booklets as required, even beyond warranty time-frames.
NEW DIRECTIONS:
Wrightway has successfully established its own steel fabrication and manufacturing facility employing and training several additional staff positions ranging from Professional Management, Sales and Marketing to Trade and Non-trade personnel, to take the business to the next level.
We continue to invest heavily in research, development and manufacture of machines which meet and/or exceed Australian Standards and continue to develop machinery and products which assist in making the Australian workplace safe and hygienic for persons who deal within waste or food handling related situations..
We have introduced Balers and other waste related equipment to our product line which now includes Glass Crushers and Drum Crushers, all of which reduces the volume of waste for disposal.
AN OVERVIEW OF OUR CORE PRODUCTS, DESIGNED AND MANUFACTURED BY WRIGHTWAY PRODUCTS:
The heightened awareness of environmental issues and need for waste recycling in conjunction with occupational health and safety issues and tougher Government regulation on hygiene standards of companies involved in food preparation is already showing an increased demand for patented Lid Lifta® foot pedal wheelie bins and other hands free waste bins. The Lid Lifta® bin was specifically designed and is manufactured to meet the rigors of every day use within industrial and commercial settings.

View video of the Lid Lifta Bin
Lid Lifta ® is a registered trademark of the company.
Moving heavy wheelie bins can create a health hazard for staff. Wrightway has addressed this common problem with the invention of the Wrightway Bin: an ergonomic push 4 wheel wheelie bin. The patented adaptation to a standard wheelie bin allows the operator to easily push or pull the bin using the handles WITHOUT HAVING TO TILT THE BIN. The weight within the bin is carried by the 4 wheels! The bin can still be manoeuvred as a standard wheelie bin if required.
Wrightway Bin® is a registered trademark of the company.

VIEW ON-LINE VIDEO OF THE WRIGHTWAY BIN
The RIGHT WAY TO EMPTY ...
The wrightway2MT® range of bin lifters / bin tippers are already being acknowledged within industry as a superior product and are price competitive to other bin tippers in the market. The patented wrightway2MT® bin lifting / bin tipping machines are the only such machines for sale in the Australian market which are fully certified (independently) as meeting and/or exceeding Australian Standards and which have additional safety features as standard inclusions on every machine .
'wrightway2MT'® is a registered trademark of the company.
VIEW VIDEO OF THE BIN TIPPER IN ACTION
We have been approached time after time by people in the Construction Industry to help them find a safe way to empty the contents of wheelbarrows into skips. In 2013 we completed extensive trials on our new wrighway2MTwheelbarrows. The cradle is designed to withstand the rigors of being hit by heavy wheelbarrows as the operator tips the barrow thereby emptying the contents inside the cradle. The waste is then lifted and emptied as with a standard bin tipper.
Minor manual changes to the cradle then allow the machine to be used as a standard bin tipper to empty standard wheelie bins.
...CUSTOM BUILT BIN LIFTING AND EMPTYING EQUIPMENT
Custom built bin lifting / bin tipping machines are available. Please contact our Sales Department to discuss specific requirments. Our Production Team includes innovative designers who can assist in solving any isses which cannot be immediately met by our standard range of tippers.
OTHER BIN LIFTING / BIN TIPPING MACHINES:
For many years the company has distributed an imported vertical lift hydraulic bin lifter / bin tipper. Due to on-going demand for a local machine with even higher safety standards than the imported model, and demands for a bin tipper which meets Australian Standards, Wrightway, being an innovative company, designs and manufactures its own range of bin tipping machines to meet these standards. Wrightway will continue to offer comprehensive spare parts and servicing of the imported machines.
AWARDS
August 2015 AWRE, Melbourne ... Wrightway Products were joint winners in the 2015 Most Innovative New Products Award
REGIONAL WINNER & STATE FINALIST 2013 BUSINESS AWARDS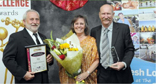 WINNERS OF 2013, 2012 AND 2011 Lismore Chamber of Commerce Northern Star Business Excellence Awards: Industrial & Manufacturing Business
WINNER:2012 Lismore Chamber of Commerce Northern Star Business Excellence Awards: Industrial & Manufacturing Business. State MP: Thomas George Director: Jennifer Joy GM: Brian Tarlinton MD: John Donnelly Federal MP: Janelle Saffin Lismore Mayor: Jenny Dowel
WINNER: 2011 Northern Star Business Awards: Trade, Industry & Manufacturing
Other awards include:
WINNER: 2012 AWRE Innovation Award ... See ... Resource in Focus Article Resource in Focus ... See Video ... Electric Vehicles at AWRE
FINALISTS:
2013 Food Magazine Awards: Food Safety and Innovation in Non-Food Category
2013 Manufacturers Monthly Endeavour Awards:
... Australian Industrial Product of the Year Award
... Environmental Solutions Award
... Australian Consumer/Trade Product of the Year Award