wrightway2MT INDUSTRIAL Bin Tipper / Bin Lifter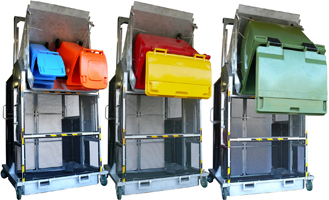 To lift up to 425 kgs and empty either 660 Litre or 1100 Litre 4-wheeled skip bins,
or, up to 2 x standard wheelie bins (80, 120, 140, 240 Litre Wheelie Bins).
INDEPENDENTLY CERTIFIED TO MEET AUSTRALIAN STANDARDS
For more information please complete our
On-Line Enquiry Form
and we will get back to you personally with a detailed response within 24 hours.
Introducing the wrightway2MT® INDUSTRIAL bin tipper / bin lifter
"The Right Way to Empty"




Bins, Containers, Drums etc.
Download Brochure


Operation:
The wrightway2MT® INDUSTRIAL lifts and tips the Cradle from the base. The weight (up to 425kgs) is spread evenly between two guarded tracks which transfer vertical motion to safely tip and empty the container held within the Cradle enclosure. Standard INDUSTRIAL Lifters are set to lift up to 350 kgs.
An Hydraulic Power Pack (1-phase, 3-phase) supplies the hydraulic ram with the power to efficiently lift, tip and empty as required.


Applications:
wrightway2MT® INDUSTRIAL Bin Tippers provide safe and efficient lift and tip capabilities which can be adapted to suit a wide range of applications including:
Emptying waste product into skips, including skips located below floor level.

Transferring product (including food product) from one level to tip into a hopper or container.

Moving product or materials from one level to a conveyor belt
Non-standard (custom) machines are designed to suit specific applications according to requirements.


Bin Sizes:
The Cradle can be adapted to suit a range of containers.
Standard Multi Purpose Cradles (MPC) takes either 660 or 1100 four-wheeled skip-bins, and any combination of 2 standard wheelie bins including 240, 140, 120 and 80 litre bins with no manual change over required for differing sizes.

Download brochure: HOW TO Empty 660 + 1100 skip bins


Download brochure: HOW TO Empty wheelie bins
Multi Purpose Cradles may be further adapted to include round bins on dollies. Cradles for drums or other containers may be designed to suit specific applications according to need.


Construction:
Standard:
Galvanised Frame and Cradle, galvanised + powder-coated 9mm wide diamond mesh guarding.

Non-standard options include:
Polycarbonate full or partial guarding.
Specific variations to standard 1800mm, 1500mm, 1200mm, or 800mm (tips below floor level) tip heights.

Electronics:
Door Interlock + Safety System = AS3000 + AS4024 (Optional: Category 3 Compliant)


12 Months Warranty:
Warranty covers any parts that fail due to faulty workmanship or defective materials. The Warranty provides for reimbursement to the "Warranty Holder" for the reasonable cost of the repair or replacement of any Covered Machine during the Warranty Period, at the sole discretion of the Manufacturer and subject to conditions of the "Exclusion Clause" of the Warranty. A full Warranty document is provided with each machine.
SAFETY FEATURES
OPERATIONAL SAFETY FEATURES (MACHINE SAFETY):
(i) Possible pinch points eliminated:
• Moving parts fully guarded, access areas made safe.
• Finger-proof guarding.
• Restricted limb access at base of machine
(ii) Integrated safety inter-lock system:
• Machine cannot operate unless both doors are closed.
• Doors cannot be opened unless:
- the machine has been turned ON by the key;
- the cradle is at ground level (sensors aligned);
- the operator is pressing the door release button.
• Manual door-open over-ride levers located above the doors within machine
(the machine will not operate when over-ride is on).
• Electric door-open over-ride located within Control Box for use by Authorised Technicians Only.
• EMERGENCY STOP BUTTON
The machine is instantly in-operable when the Emergency Stop Button is pressed,
and remains in-operable until the key is inserted and turned clockwise to release
the Stop Button from the depressed position.
(iii) Innovative lift and tip mechanism:
• Moving parts travel inside covered and shielded channels.
• Weight on the cradle is securely supported by two outside arms.
• Hydraulically driven (no sprocket).
• Cradle lowered by gravity.
• Pressure relief valve: cannot be overloaded; controlled lowering speed.
(iv) Other:
• Operator safely located at front of machine.
• SOP below Control Panel.
• Recessed Control Panel (push-button switches require constant pressure to operate machine).
• Doors open wide to maximise access of bins to the cradle.
• Additional wind-down locking mechanisms at rear of the machine for increased stability.
• Detailed Operating Manual included with every machine.
• Staff Training.
• 12 month Warranty.
RE-LOCATION SAFETY FEATURES
• Dedicated fork-lift pockets.
• Chain brackets welded to frame to accommodate relocation by crane.
• Sturdy Handle Bars located at the font of the machine on both the right and left-hand sides of the doors for use by 2 operators to relocate the machine.
Download brochure: HOW TO relocate the wrightway2MT INDUSTRIAL Bin Tipper / Bin Lifter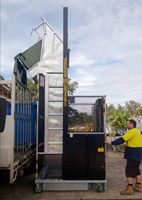 STAFF PROTECTION & SAFETY - OPERATOR SAFETY FEATURES
NO PINCH POINTS:
9mm wide diamond Galvanised+Powder-Coated Mesh Guarding protect Operator against inadvertently reaching into the machine.
Inner Guards at the Rear of machine prevent body parts inadvertently reaching into hazardous zones.
Mesh panels at the Rear of the machine protect against any body part or clothing or waste material coming into contact with any of the moving parts whilst the machine is in operation.
During the lift, invert and empty phase of the operation, the bin or its holding mechanism does not make contact with any part of the machine. At all times there is a pinch-point free zone between the bin, the top bar of the mesh guarding and the inner side-guarding protecting the moving parts.
ADDITIONAL LIMB PROTECTION AT GROUND LEVEL:
Solid sheet metal Lower Protection Guard encloses all entry points at ground level to the inside of the machine thereby preventing feet or hands being injured whilst the machine is in operation or being moved - there is no entry point even when the castors are facing sideways.
Minimal space between bottom of Doors and ground level.
NOTE: Operator MUST wear appropriate safety footwear whilst moving or operating the machine.
ROUNDED METAL HANDLE BARS:
Solid handle bars on both sides of the machine provide easy, balanced grip by 2 persons for safe manoeuvring of the machine in all directions within confined areas.
CONSIDERED ACCESS TO INTERIOR:
Double doors open wide to allow easy placement and removal of bin/container.
Machine cannot operate if the either of the Doors are open.
EMERGENCY STOP BUTTON
Located on the Control Panel at the front of the machine.
Machine ceases all operation when the Emergency Stop is activated by depressing the button.
Machine remains fully in-operative until the Key has been inserted and turned clockwise to release the Stop Button from the depressed position.
MANUAL DOOR OPEN LEVERS:
Located and clearly signed on the cross bar above doors inside the machine.
Allows emergency exit should the Door close whilst Authorised Technician is working within the machine frame.
Note: Lever MUST be returned to LOCK position for machine to operate.
NO MANUAL HANDLING OF THE BIN:
Bin-lids do not have to be opened prior to use: Operator is not exposed to contents of bin.
Multi Purpose Cradle suits multiple bin sizes.
Bins do not have to be attached or manually secured to the Cradle. Operator wheels bin/s in and closes the door.
STAFF PROTECTION & SAFETY - SERVICE TECHNICIANS:
Access to the Control Box is limited by a locking mechanism which requires a specific Control Box Key which should be safely stored by the Owner and only provided to Authorised qualified Technicians as required.
A coloured Wiring Diagram is located within the Control Box. The Manufacturer will provide Authorised Technicians with
a copy of the Service Manual or relevant details as requested.
(i) Control Box
Located on side of machine.

Specific Key (for use by Authorised Technicians only).

Hinged, sealed door (does not require re-sealing to maintain integrity of seal after access).

Easy spacious access to all components within for straight-forward servicing.

Door-open electrical over-ride switch (to allow door to be opened even if the cradle sensors are not aligned).

Detailed full colour wiring diagram attached inside door
(ii) Authorised Technicians
Upon request the Manufacturer will provide a comprehensive service manual, diagnostic assistance or specific instructions prior to or whilst working on the machine.
AVIALABILITY:
wrightway2MT INDUSTRIAL bin tippers / bin lifters are awailable Australia wide: NSW, Queensland, Northern Territory, Western Australia, South Australia, Victoria and Tasmania. We also supply overseas inlcuding New Zealand, Asia and Australasia, Europe. USA etc. Please contact us for more details.