Ergonomic Push Wheelie Bin:
A must in any situation where safe movement of heavy wheelie bins is a priority.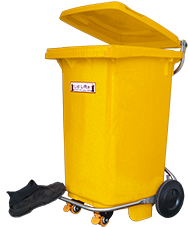 Eliminates damage to base of bins from continual use on non-slip floors.
Weight of the contents is carried by the bin, not by the operator.

Wrightway Bin: Download Brochure
Proudly designed and manufactured by Wrightway Products

Ergonomic Push Wheelie Bin WITH or WITHOUT Lid Lifta® Foot Pedal (Patented)
PUSH WHEELIE BINS RECOMMENDED FOR USE IN DIVERSE LOCATIONS, INCLUDING:
Butcher:

Meats soaked in brine

Ingredients

Bone waste

General waste product
Factories:

Waste materials at work benches

Product

Ingredients

Materials
PREVENT CROSS-CONTAMINATION OF PATHOGENS:




WRIGHTWAY BIN with LID LIFTA FOOT PEDAL
The Lid Lifta foot pedal can be easily incorporated into the Wrightway Bin functionality thereby enhancing the effectiveness of preventing cross-contamination of pathogens, including the Coronavirus COVID-19, between operators when opening and/or closing the lid of the bin.
SIMPLE TO USE:
The Wrightway Bin moves freely with minimal operator effort relative to the weight held within the bin. The weight is carried by the bin, not the operator.
No dragging bin away from walls to gain access to the handles ... the bin can be moved by fingertip pressure applied to the lid.
ENHANCED MANOEVRABILITY:
The Wrightway Bin is able to rotate freely largely within its own footprint.
Easy to pull forward away from the wall without having to tilt the bin or drag the entire unit forward to access the handles.
INNOVATIVE DESIGN

(Patent Pending)

:
No holes in the floor of the bin.
Stainless Steel fitting.
Eliminates wear from non slip floors on underside of bin (no need to drag the bin, moves freely by fingertip).
BRAKED CASTORS:
For additional stability.
Stainless Steel castors (conditions apply*)
SPECIFICATIONS:
WRIGHTWAY BIN SIZES:
80 Litre Bin (801mm H x 480mm W x 561mm D).

140 Litre Bin (920mm H x 535mm W x 640mm D).
WRIGHTWAY BINS & LIDS:
Bin colours are subject to availability. Please check before ordering and please specify if you need the bins to be Food Grade.


On-line Enquiry Form
Please specify you are interested in the Wrightway Bin, 80 Litre or 140 Litre.
*Check for availability of Stainless Steel Casters for all Wrightway Bins